Archive for the 'Junking Pictures' Category
The most fun I've ever had searching for pictures was at the Broadway Antique Market. They had drawers upon drawers of photos and most were a quarter or less. I was in photo junking heaven!

Old Style Halloween

"1983"

Devil's Nose

"FEB 24 1943 JUDSON SMITH"

Far Side Kid

Earfull
"C.W. SIMON STUDIOS
334 S. George St.   York, Pa
MAY 11 1948″

"I hope you like these pictures"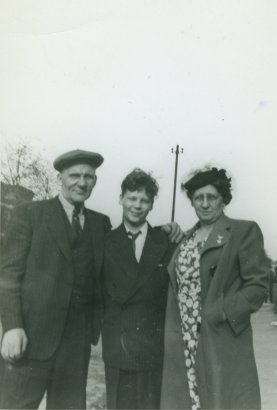 "Sept. 4, 1936
Betty Jean Hipple in Carey's Salt Mine At Hutchinson, Kansas
640 ft. belowd ground level"
1 comment
Five pictures from Lost Eras or Where Mall Easter Bunnies Go to Die.

The Juke Box – Chicago
"Our family wishes you and your family a merry Christmas and a happy new year. Lorenzo, Bernice, Larraine + Reginald"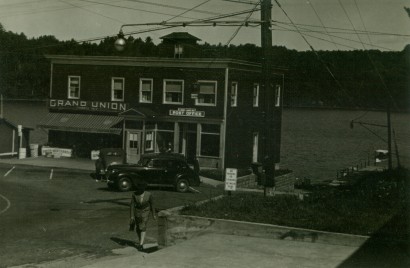 Grand Union Market & Post Office – Long Lake, NY

"I gonna look tough for Auntie V. (or am I trying to look like Lindbergh?) 10° above zero 1-57"

"Mort & Howard – Dec, 1948"
Calendar appears to be for the Page Elevator Company dated December 1949. If only more of the newspaper in the lower right was visible.

Door of Christmas Cards
No comments
Picked up a hearty handful of cube pictures while attending the Third Coast Filmless Festival in Chicago last March.   This post is the first of three showcasing the stash.  These four were purchased at the Edgewater Antique Mall at 6314 North Broadway.

Beach Fun
6/21/36

Snowy Floral – Open For Business

You can do it!

Ta Da, see it wasn't so bad!
No comments