Lately I've been playing around with tweaks or hacks on vanilla digital photography.
First is time lapse photography. I shoot the pictures on a Canon SD800 IS running CHDK firmware and the Ultra Intervalometer script. The .jpgs are then stitched together using Photolapse. The battery lasts over 2 hours shooting a frame every 15 seconds with the screen remaining on the entire time. For longer shoots I picked up a generic ACK-DC30 adapter from BestBatt.com. The price seemed right and they shipped it fast.
Still trying to sort a few items out. The CardTricks software is helpful in preparing the SD card but I'm unable to use anything larger than 1GB. Also sorting out the best interval for taking the pictures in different circumstances, best frames per second (FPS) and the right codec for saving. It will come in time. Below is a partial time lapse of the windows being replaced back on October 17th.
The second thing is called Through the Viewfinder photography or TTV for short. The name explains it all really. The primary camera shoots through the lens of an older camera which results in cropped, slightly dirty and surreal pictures. The type of camera for TTV consist of two lens. One for the film and the other for the viewfinder. Kodak had a line called Duaflex but I picked up an Argoflex Seventy-Five for $15 which will work just fine.

TTV of Georgie showing Seventy-Five – October 5th, 2008
In addition to the cameras, the process requires construction of a "contraption" to marry the two cameras in darkness. I haven't had a chance to bust out the scissors, cardboard and tape just yet but it is on my list of things to do. Below are two quick examples shot without a contraption. They aren't particularly exciting but give you a feel for TTV.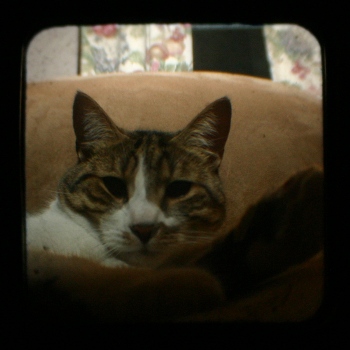 TTV of Sam – October 20th, 2008

TTV of Georgie – October 20th, 2008
Finally is an article on how convert old lenses to work on digital SLRs through the use of adapter rings. I haven't done anything with this yet but it looks interesting.
No comments